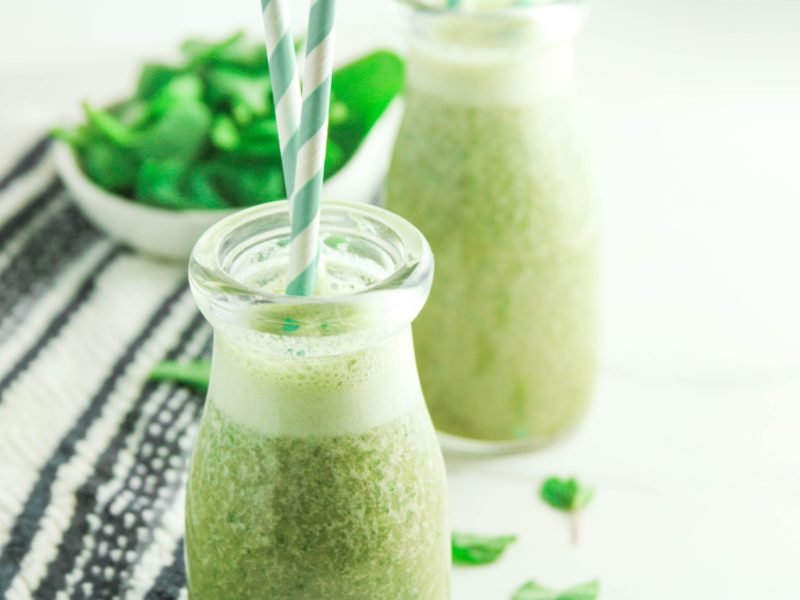 In honour of St. Patrick's Day, I made a green-themed breakfast. This is a copycat recipe for the "Mighty Kale" smoothie from Jugo Juice, which ended up tasting exactly like it! I also attempted to make Eggslut-style eggs (with a dab of pesto for the "green" part), which knocked my socks off in Vegas last week.
Enjoy!
Mighty Kale (Jugo Juice Knockoff) Smoothie
Prep Time: 5 minutes / Total Time: 5 minutes
Ingredients
Handful of kale
Handful of spinach
Handful of frozen mango
Handful of frozen pineapple
1/2 cup of orange juice
1/2 cup of apple juice
Optional:

Strawberries (I add a few, just because the frozen fruit mix I buy has mango, pineapple, and strawberries)
Protein or green powder (I use Amazing Grass Green Superfood Energy for an extra kick for starting off the day. Keep in mind that this ingredient will likely affect the taste!)
All measurements can be adjusted according to personal preference.
Instructions
Add all ingredients to blender and mix.
Tip: Pre-bag the solid ingredients and freeze, then simply add the liquids when blending to save time in the mornings!
Green Eggslut Eggs
Prep Time: 1 minute / Cook Time: 5 minutes / Total Time: 6 minutes
Ingredients
3 eggs
1 tbsp butter or margarine
Pesto (or chopped chives)
Instructions
Crack eggs into a cold pan, and add the butter. With a wooden spoon, stir the egg and butter mixture slowly until they become a uniform colour. Do not whip the eggs—this will ruin the consistency!
Turn the stove to medium-high heat, and stir. Once the eggs begin to coagulate, remove from heat and stir the curds off the edges of the pan. Return the pan to heat and stir eggs until they are the consistency of a thick custard.
Season with salt to taste (do not salt while cooking or it will ruin the consistency of the eggs). Top with pesto or, for true Eggslut-style eggs, add chives.
Happy St. Patrick's Day!
---
Photo credit: Honestlyfitness.com
Partial recipe credit: Chowhound.com