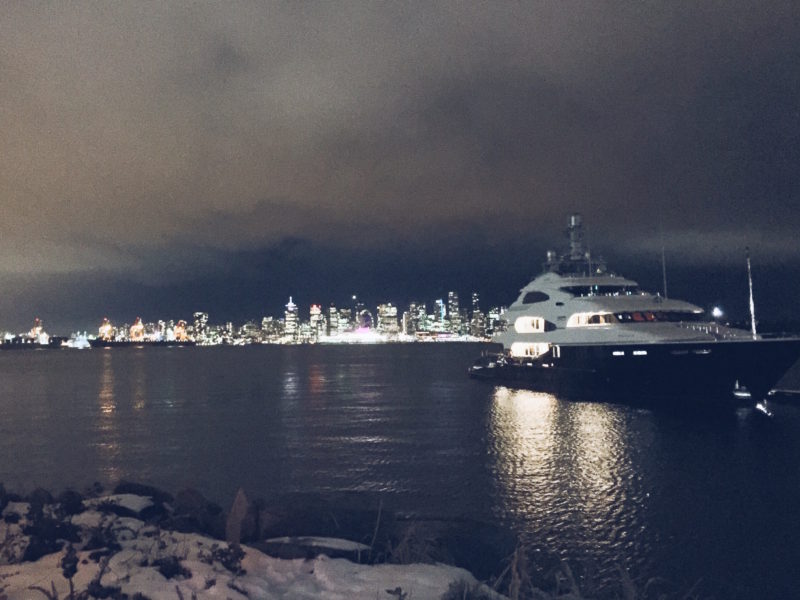 So…seeing it looks like I'll be jetting off pretty soon here (literally sitting at my gate as we speak!!), I felt this would be a good time to do a riff of my past Calgary: Top Spots post—this time featuring Vancouver! I've spent my fair share of time in this beautiful coastal seaport city, and these are some of my personal favourites I've visited over the years.
Best Vancouver Restaurants (Hidden Gems)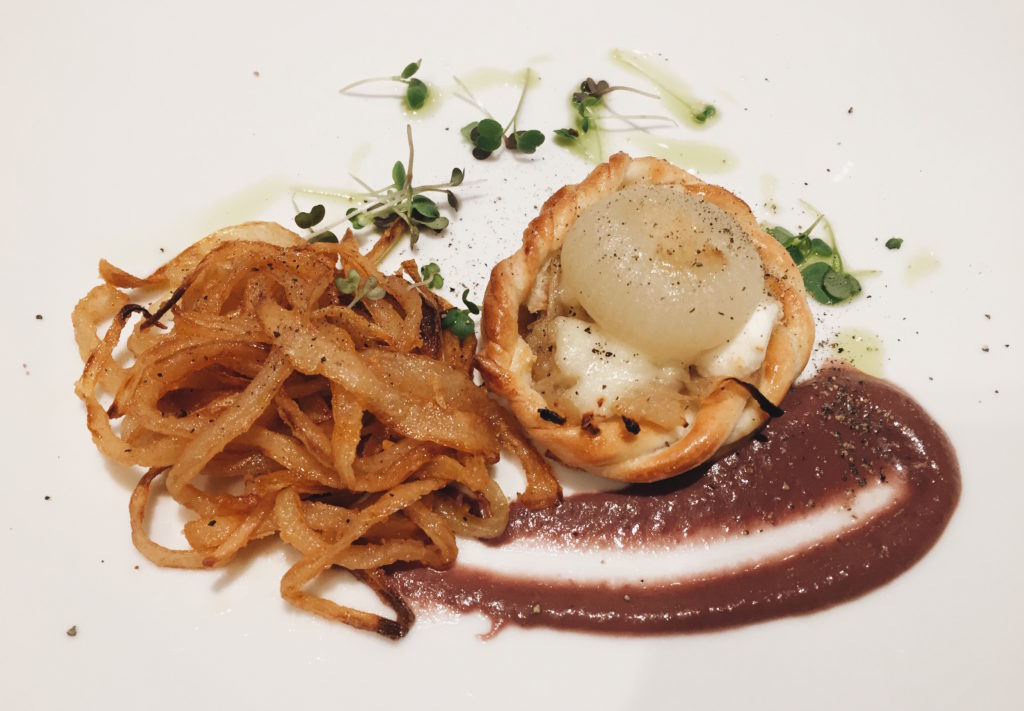 JJ's Restaurant (Vancouver Community College): Okay, I hope my sister doesn't kill me for spilling the beans on one of her all-time favourite spots for lunch in Vancouver. JJ's Restaurant (250 W Pender St, 604-443-8479, vcc.ca) is a casual fine dining room run by students and instructors of the VCC culinary arts program. That means you get great service (be kind as some of them are still starting out!) along with gourmet dishes priced at a fraction of the same quality of cuisine served elsewhere. For example, their January 2017 menu offered a lamb sirloin served with bacon lardon cassoulet, meaux mustard jus, and chorizo madeline for just $12.
Unfortunately, they're only open from 11:30am to 12:00pm, Monday to Friday (seating times are every 15 minutes). If you arrive right as they open, you should be able to get a table—otherwise, reservations are recommended. This is a little-known place with great food so, luckily, it hasn't gotten ridiculously busy…yet. Again, if this blows up, I'm sorry for giving away your favourite hidden gem, Pam!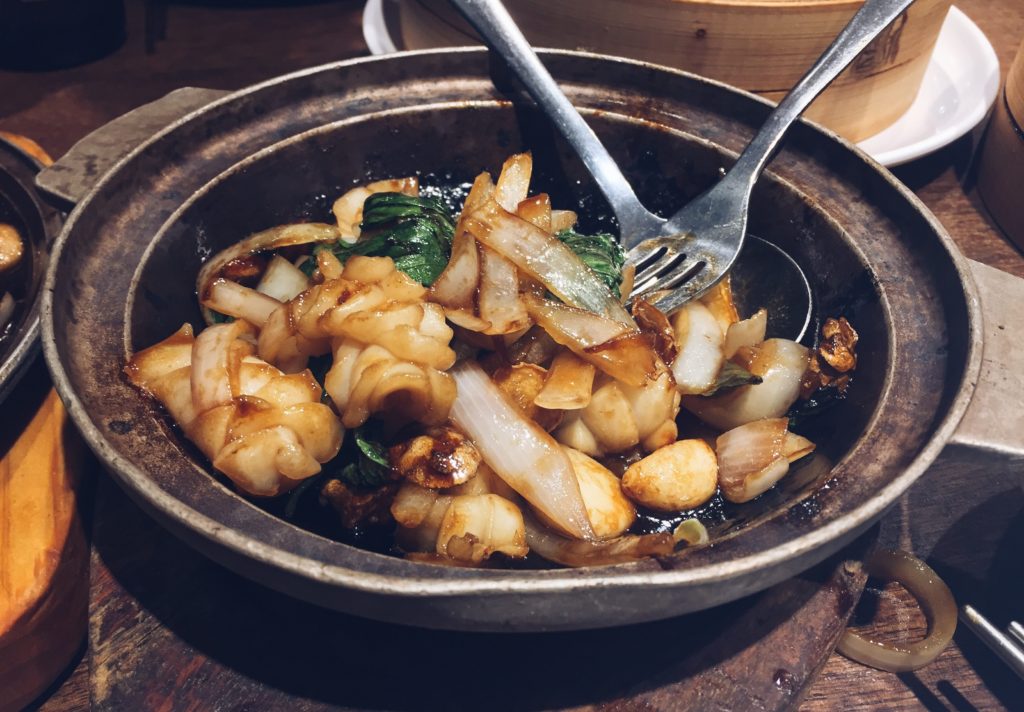 Dinesty Dumpling House: Dinesty (1719 Robson Street, 604-669-7769, dinesty.ca) is an open-kitchen concept restaurant serving something I didn't even know existed: soup dumplings! They're most famous for their steamed pork soup dumpling, which is thinly hand-kneaded and filled with a tasty chicken broth and ground pork filling.
They also offer a vast array of authentic Shanghainese and Taiwanese dishes, such as the ancient boiled chili beef and pan-fried shrimp & pork stickers (both highly recommended!). I don't usually get dessert at restaurants either, but they have traditional Chinese desserts such as the coconut tapioca and steamed mashed-salted-egg-and-condensed-milk buns—it sounds odd, but I promise they're delicious. Best served with a bottle (or two!) of Asahi.
Best Vancouver Restaurants (Better Known)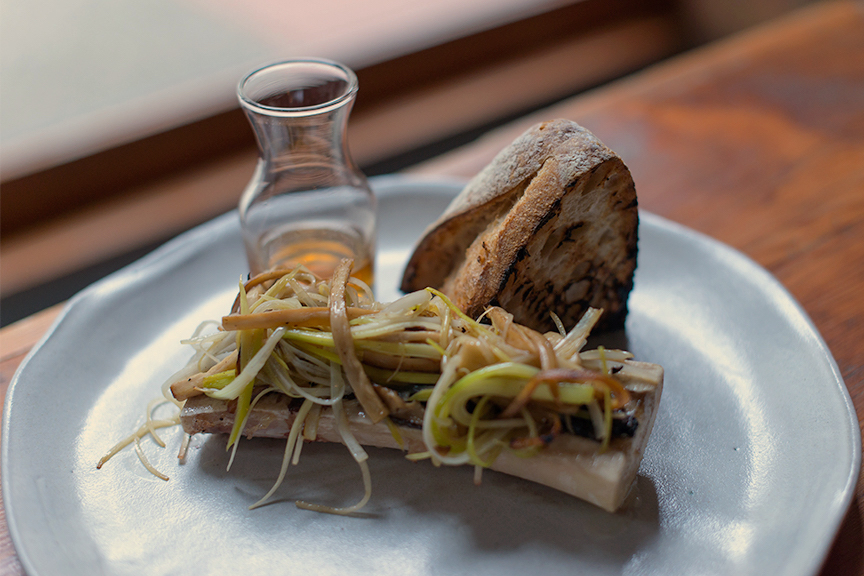 Best Modern Food in Vancouver: Wildebeest (120 W Hastings St, 604-687-6880, wildebeest.ca) is a hip Gastown restaurant with creative cocktails and seriously delicious (and gorgeously plated!) food. Full disclosure, I've only ever tried one of their dishes—the bone marrow with roasted leeks, oyster mushrooms, crimini mushroom vinaigrette and grilled sourdough bread—but I would recommend checking them out just for that!
Even more fun: you can add the bone luge (which I always do) for an additional $3. The bone luge is a shot of sherry poured down the length of the cleaned-out cow bone, collecting the last bits of delicious fat and marrow as it goes. Not only is it tasty, but a fun and unique experience if you're bringing a friend or hoping to impress your date.
A bucket list experience for me is Wildebeest's omakase option—a Japanese expression that loosely translates to "trust the chef"—where you let them order for you! A great idea for those people who always have trouble deciding what to get, myself included.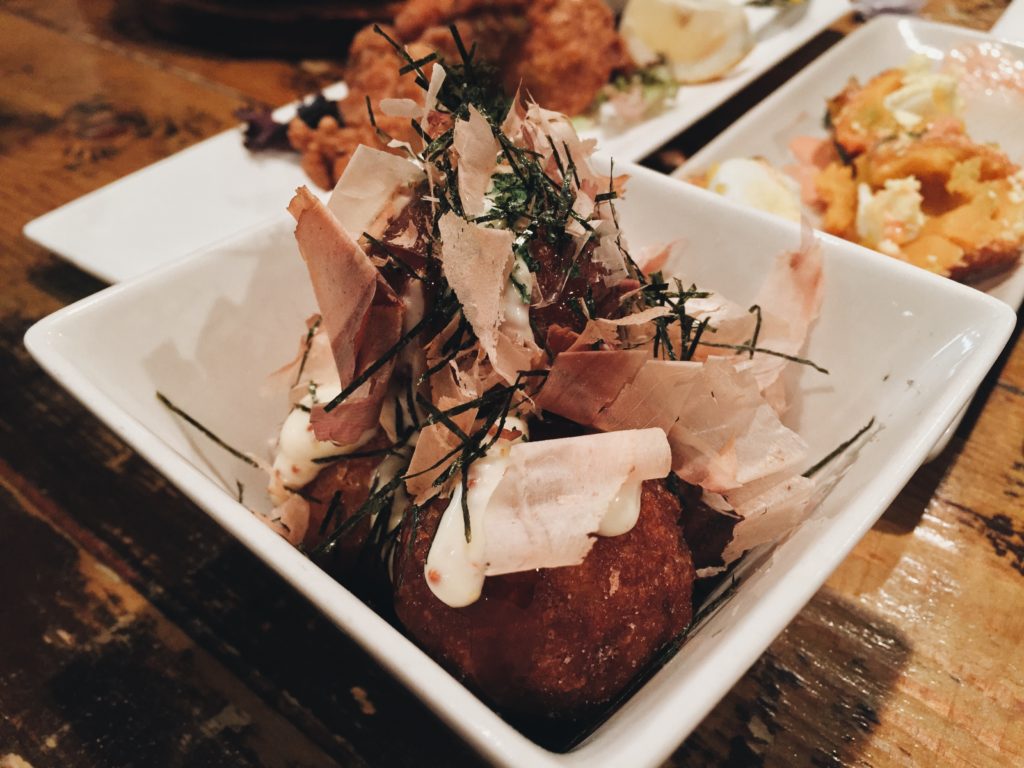 Best Japanese Food in Vancouver: Vancouver is well-known for their selection of great izakayas—the Japanese version of a tapas bar—and Guu with Garlic (1698 Robson Street, 604-685-8678, guu-izakaya.com) is consistently my go-to. There's almost always a line for lunch or dinner (however, you can make reservations if you have a group of 3+), and it's probably the best of the Guu establishments in Vancouver (there's five others). Guu with Garlic is specifically known and aptly named, as there's an element of garlic in every single dish they serve!
In addition to a regular menu, there's a specials menu that often changes daily. Everything I've tried from here, even the dishes I wasn't too sure about when ordering, has exceeded my expectations. My S.O. was head over heels for the calamari, which he said is the best calamari he's ever had, anywhere. The service is quick, and the hustling and bustling atmosphere is alive with conversation. It's a great place for a date, or to catch up with friends alike!
A fun element of Guu with Garlic (and most izakayas) is the staff shouting when you enter the establishment, which is a Japanese tradition of welcoming you as a guest. So, don't be alarmed when the hostess, waitstaff, and chefs greet you with a loud chorus of "Irasshaimase!" when you walk in.
Side note: Writing about this place makes me want to go again…like, now. Mouthwatering garlic chips…ramune soda…I just might have to use the excuse that I need photos for this post to indulge.
Side note #2: Aaaaand I went. Enjoy the photo I snapped just for y'all!
Best Vancouver Bars & Pubs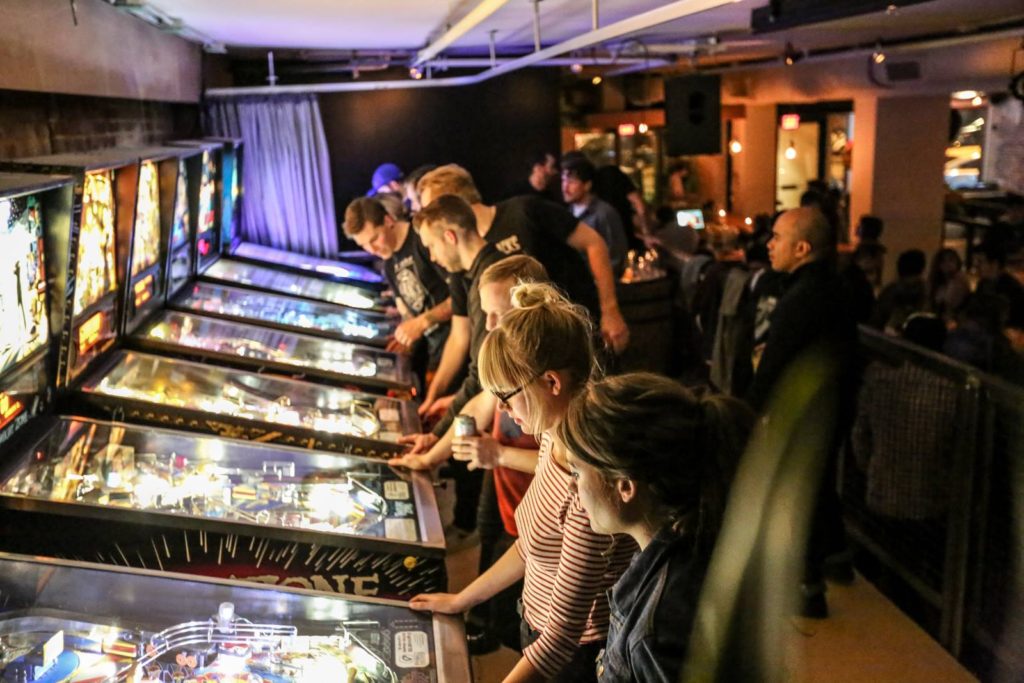 Best Hipster Bar in Vancouver: I happened upon this place one peculiar night, meeting up with some friends. After discovering just how busy the Yaletown clubbing district gets on a Saturday night (as one of them put it, if the busty model brunette outside can't get in, forget it), we started wandering bar to bar in search of somewhere without a huge crowd clamouring at its doors.
A few blocks down, one of them had the grand idea of flagging down a limo to take us to our next destination. Five minutes later, we were inadvertently dropped off in front of what ended up being a homeless shelter, where passing hipsters in Harry Potter-esque glasses and cigarettes in hand laughed unabashedly at our misfortune coupled with the ironic and pretentious choice of transportation.
Luckily, we figured out that we were only about a block or two away from our intended destination, and made our way down to one of the most interesting bars I've been to in Vancouver so far. The American (928 Main St, 604-398-4010, Facebook) is a slightly dingy-looking bar decked out with vintage floral wallpaper and pinball machines (and Street Fighter!). Upon further research, it seems that The American was formerly occupied by a hotel that died in 2006 and, along with it, its reputation for "super-cheap blocks of stolen cheese, cocaine, motorcycle gangs, and grunge." It's hard to explain how, but you can feel that colourful history lingering within its brick walls.
The beards and American Apparel were out in full force, but there's an unassuming vibe to the place despite its hip factor. As Simon Fallick—one of the pub's owners—says, it's a place to "listen to some great music and shoot pool without having to get dressed up or worry about dealing with shitheads." Nice.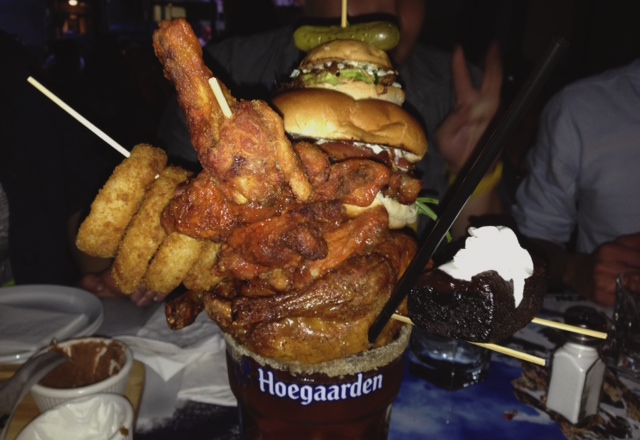 Best Bar in Vancouver: The Score (1262 Davie St, 604-632-1646, scoreondavie.com) is a well-known bar in Vancouver's downtown west end that's great for catching the game. It's also famous for their stacked caesars, including a $60 behemoth featuring a full roast chicken, burger, pulled pork slider, onion rings, chicken wings, a macaroni and cheese hotdog, and a brownie for dessert. There's variations with a McMuffin, grilled cheese, or deep-fried seafood as well.
The Score's beer selection is great, and the food tasty (the crispy chicken sandwich with cheddar, bacon, garlic aioli, pico de gallo ranch, and fried jalapeños is on point). Their patio also has heaters and blankets if you can't manage to get a table inside (it's usually pretty packed—let the super nice doorman know if you want to switch to an inside table once one opens up), and here's a quick tip: the vaguely labelled bathrooms are unisex. Beat up Barbie and Ken dolls are nailed haphazardly to what is supposedly the "women's entrance," which leads into a bathroom with an adjacent door for the "men's entrance"—not that it makes a difference, obviously.
I've also heard it's one of the places to be during Vancouver's Pride Parade, which usually takes place in August!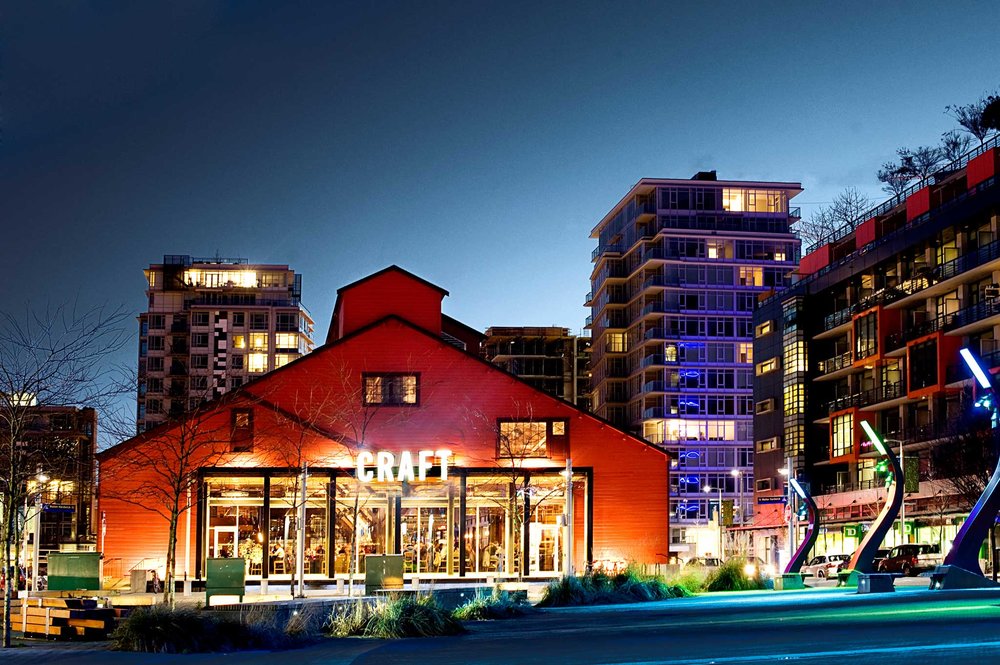 Honourable Mentions for Best Vancouver Bars
Craft Beer House (85 W 1st Ave, 604-709-2337, craftbeermarket.ca) is located inside a giant historical structure called the Salt Building, and offers dishes such as the Nacho Barrel (served in the lid of beer keg!), Fast Food Sushi, and a 20 Napkin Burger that's garnished with a mini burger—so meta. Great place to catch the game (although some nights there may be up to a 30-60 minute wait, so get there a bit early) and try an awesome selection of both local and international beers. They also have rotating handles of limited edition beers for the adventurous. You may want to check with the bartender which ones are available though—depending on when they were brought in, many of those kegs may already be kicked.
Local (2210 Cornwall Ave, 604-734-3589, localkits.com) and Colony Bar (3255 W Broadway, 604-559-6070, colonykits.com) are two Kitsilano watering holes with good food, drink specials, and fun events. Local, an old favourite of mine in Calgary, has a Vancouver location that also serves up the best beer-battered Baja Fish Tacos. I attended the Super Bowl LI party at Colony Bar Kits, which featured Parallel 49 buckets and an all-you-can-eat pig roast, tater tot, cornbread and coleslaw dinner with Texas and Carolina BBQ sauce.
Best Vancouver Cafés and Dessert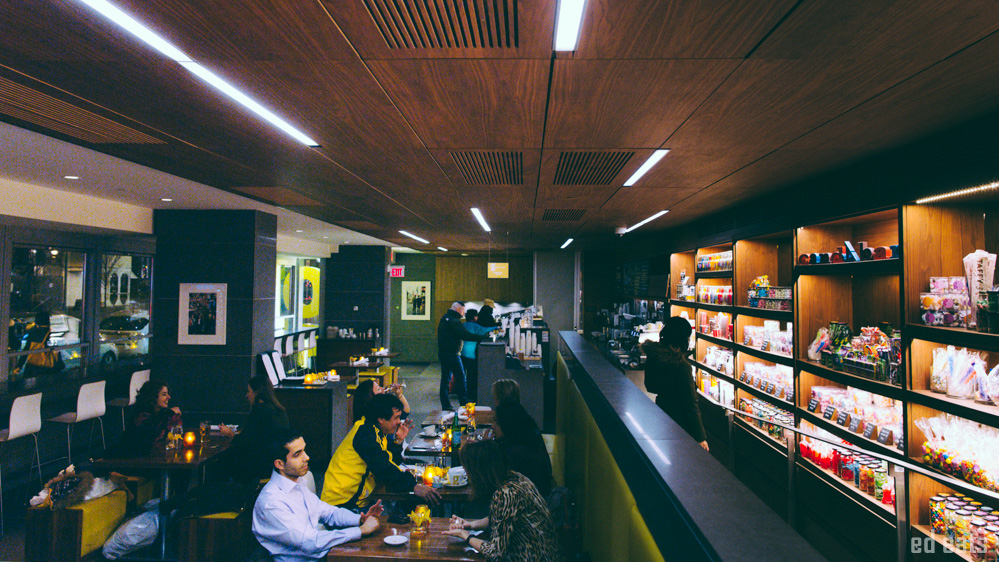 Giovane Café (1038 Canada Pl, 604-695-5501, giovanecafe.com) is one of my all-time favourite places in Vancouver, and it's located inside the gorgeous Fairmont Pacific Rim Hotel. Not only is it great for grabbing a coffee, but it's also a great hang-out spot for studying and working on stuff (if you can't get on the Fairmont_Public network, the wifi password for Fairmont is "pacrim."). I always snag a spot at the communal long table on the upper level closer to the deli. Oh yeah—in addition to being a café, they also double as a wine bar, deli and marketplace featuring goodies from cool brands like Sugarfina, ban.do (one of my faves), Meri Meri, and local companies such as Brunette.
Their Banana Coconut Latte is one of my all-time favourite caffeinated indulgences (next to Philz' Mint Mojitos), and they have a variety of fresh salads, paninis, pizzas, pastas, and daily specials to choose from. If you need a study break, there's always something new going on inside the hotel—the current features are MUJI and BEAMS pop-up shops, and the "Japan Unlayered" exhibition. The sleekly decorated Lobby Lounge (think leather seating, marble pillars, crystal chandeliers and a fireplace wall) has live music in the afternoons and evenings (shoutout to Vancouver local Nikita Afonso, who played a beautiful rendition of Fleetwood Mac's "Dreams" as I was passing through one evening).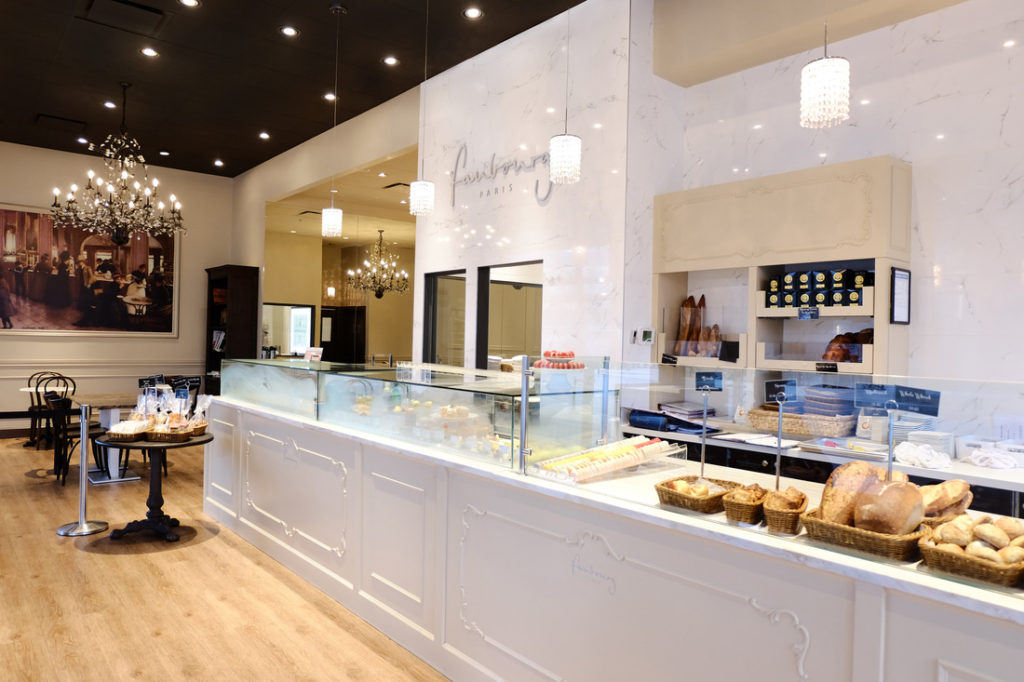 Faubourg (792 Main St, West Vancouver, 604-922-7920, faubourg.com) is a French bakery and café at the Park Royal shopping centre in West Vancouver. The Caramel Macchiato and Ham & Cheese Breakfast Croissant are my top picks for when I settle in for a long study sesh. I've yet to try any of their macarons and other beautiful-looking desserts, but I've seen many people stop in all throughout the day for their operas, mousses, and eclairs. Need wifi? The password for Faubourg Paris – Guest is "croissant."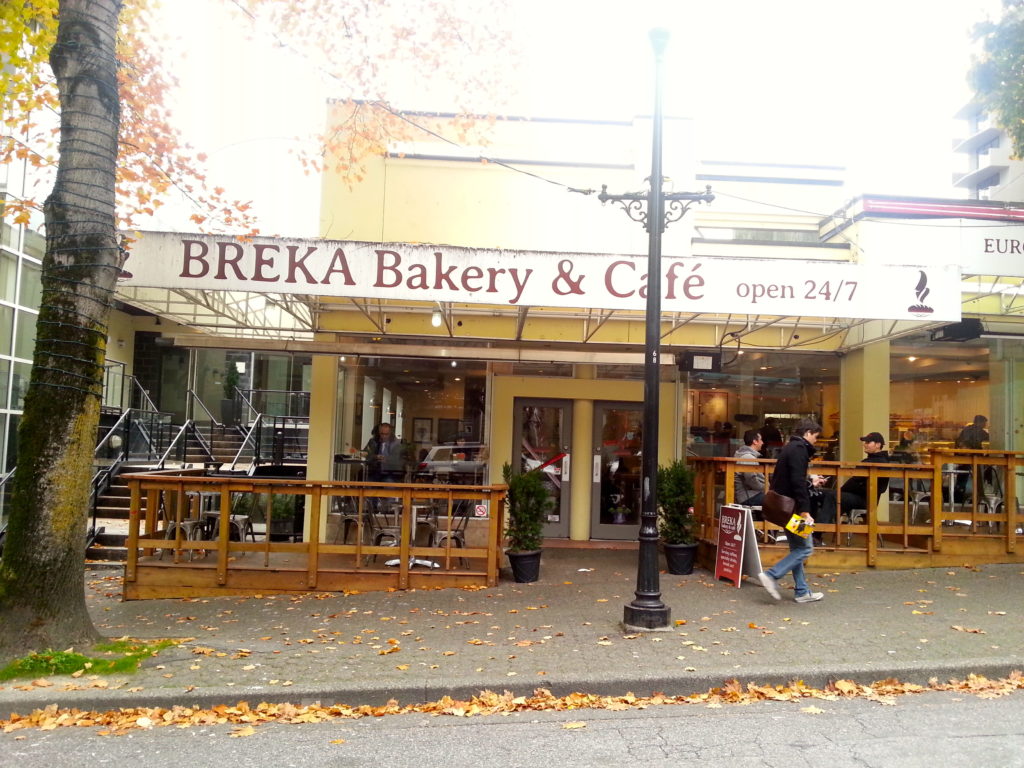 Breka Bakery & Café (818 Bute St, 604-620-8200, breka.ca) is one of the few 24-hour coffee houses open for the night owls. Located just off of Robson Street, it's great for people-watching if you need a study break. They have a huge selection of bread, sandwiches, and pastries—my favourite are their breakfast cookies, made with oats, flax seeds, chocolate chips, walnuts, dried cranberries, sesame seeds, sunflower seeds, banana and cinnamon. During peak times, every seat in the house will be taken (including their outdoor patio). However, have patience, and soon enough a seat will open up—but you'll have to keep your eyes peeled carefully for people getting up and leaving. There aren't too many outlets as well, so it may be a bit more difficult if you're planning to stay awhile, but it tends to get quieter later in the evening (between 7 and 9pm). Breka Bute's wifi password is "ilovebreka."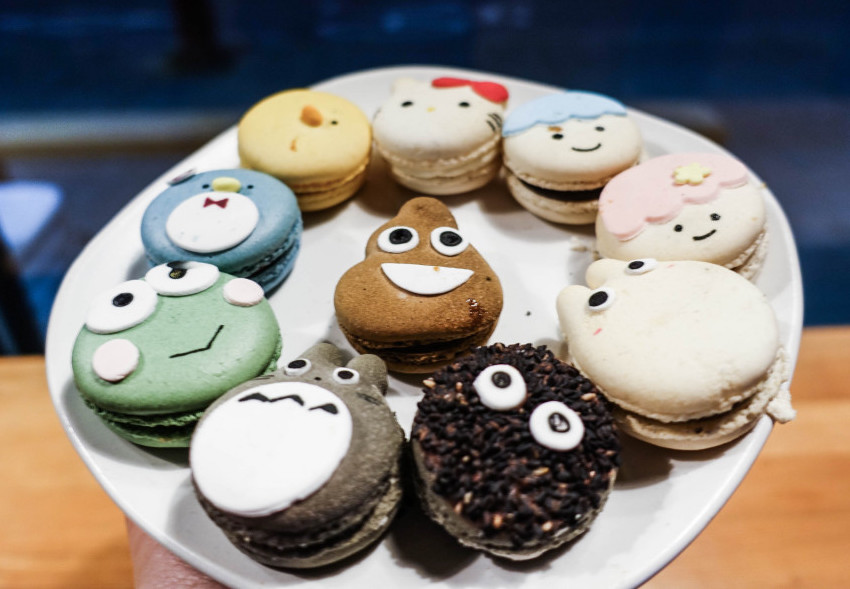 Crackle Creme (245 Union St, 778-847-8533, cracklecreme.com) is a dessert café known for their crème brûlée (with unique flavours such as black sesame and honey lavender), Belgian-style liege waffles, and adorable macarons decorated as emojis and Sanrio characters! I picked some of these up while visiting my family one Easter, and my niece absolutely loved them. Their hours can be a bit odd (they're usually only open after 3pm), so be sure to check before you go.
Best Unique Vancouver Dining Experiences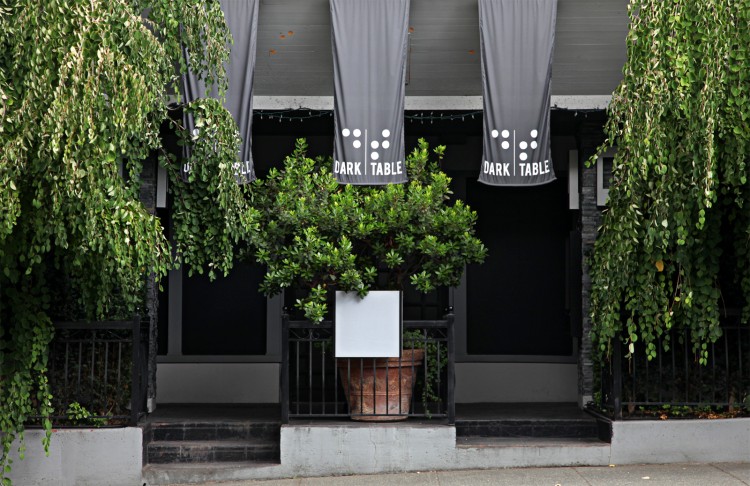 Dining in the Dark: Walk by Dark Table (2611 W 4th Ave, 604-739-3275, darktable.ca), and you'll almost miss a discreet-looking building with blackout curtains veiling its front windows. Dark Table is a unique restaurant where you eat in complete darkness—supposedly to enhance your sense of taste by depriving you of sight. Select from the menu outside its doors (or choose the "surprise" option) before you're led inside and seated at a table by your server—who is blind or visually impaired. The quality of food is alright, but I recommend checking it out mainly for the novelty. I've heard similar reviews of people being disappointed by some of the dishes as well.
Tip: Get 31% (or more) off! They've had a long-standing deal running on Groupon for a three-course meal for two. Check out the Dark Table Groupon here, and use this link to sign up for 25% off your first purchase.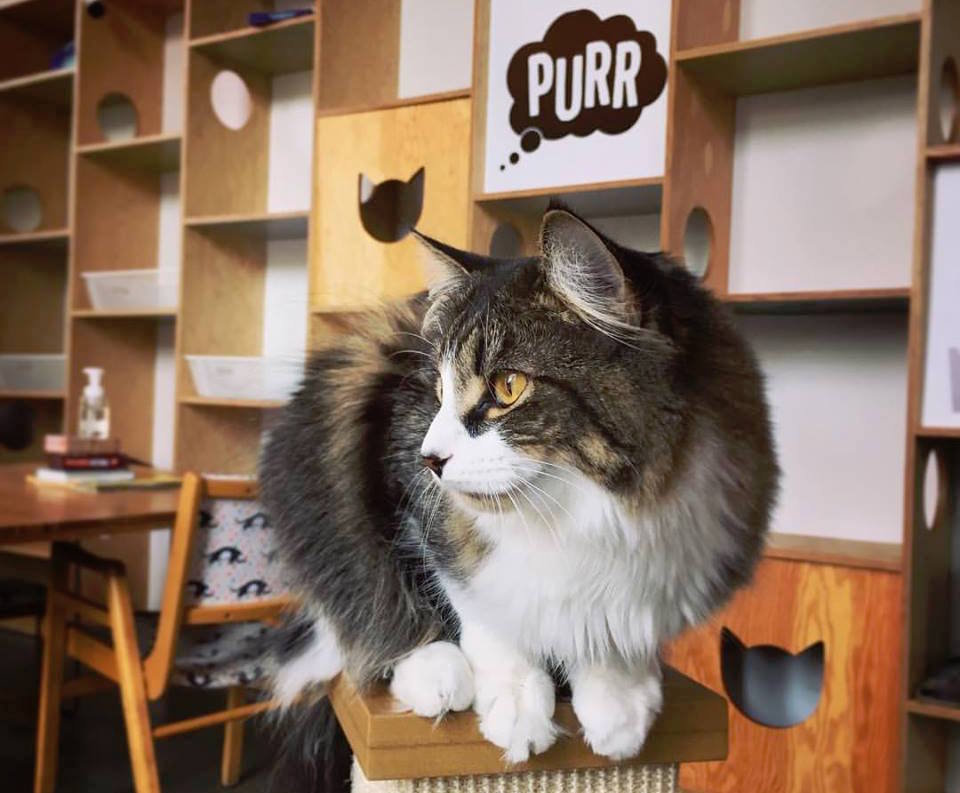 Coffee with Cats: Following the widespread popularity of similar cafés across Asia, Vancouver opened its first "cat café" in December 2015. Catfé (#2035, International Village Mall, 88 West Pender Street, 778-379-0060, catfe.ca) gives you the opportunity to sip on lattes and play with adoptable cats from the BC SPCA! Some of them may be a bit more shy, especially if they're recent arrivals, so take care to follow the rules at Catfé—they'll brief you fully before entering the play area.
Be sure to make a reservation ahead of time as well. Walk-ins can sometimes be accommodated, but it tends to fill up quickly as only 16 people can enter Catfé at a time. The reservation slot is for one hour, and admission is $8 (but they'll knock $3 off if you purchase something from their café).
Best Shopping in Vancouver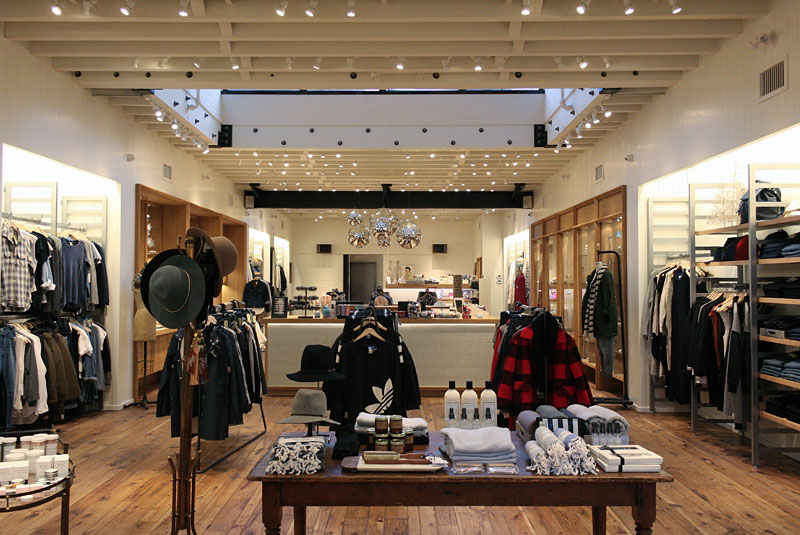 Hill's Dry Goods (2081 W 4th Ave, 604-734-4425, hillsdrygoods.com) is something of a sister store to Aritzia, which was founded by the brother of Hill's owners Ross and Nancy. They carry a higher end selection of brands (and no in-house brand, a la Wilfred and Babaton at Aritzia) and a wider variety of goods—such as jewelry and body care products. Let's just say that if I were to have a dream wardrobe, it would be everything they carry in this store. They have a variety of high quality staples like basic t-shirts, as well as more unique streetwear style pieces. A word of advice: this store is dangerous for your wallet.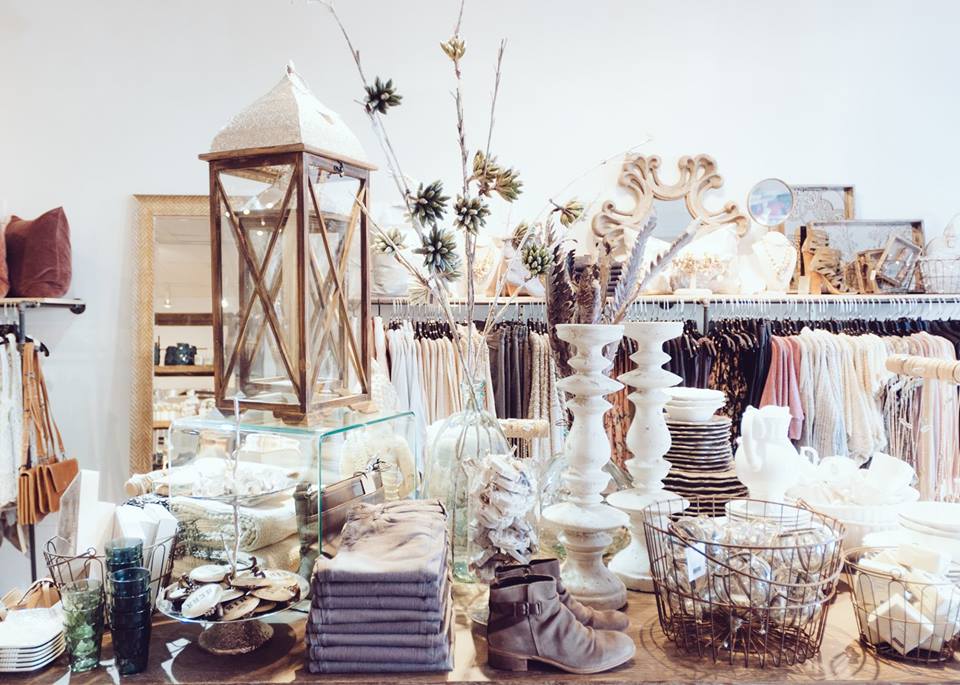 The Latest Scoop (2928 Granville St, 604-569-3212, thelatestscoop.ca) is a hip local store with new arrivals from Los Angeles, New York, Toronto, Paris, and more, weekly. In addition to clothing and footwear, they also bring in jewelry, accessories, handbags, and housewares.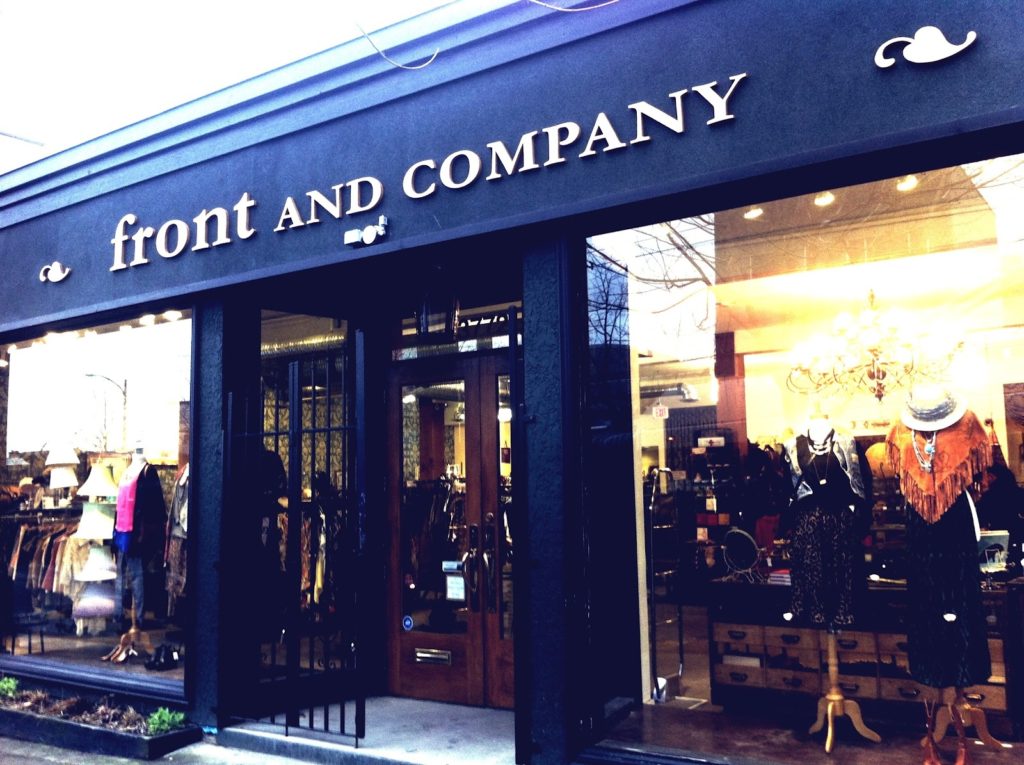 Front & Company (3772 Main St, 604-879-8431, frontandcompany.com) is a consignment store full of secondhand clothes in mint (or near-mint) condition from mid- to high-end designer brands. I first discovered this store several years ago, when I found a beautiful Wilfred top at a fraction of the cost it originally would've been at Aritzia. They also carry just about everything else: hats, bags, jewelry, accessories, stationery and gifts.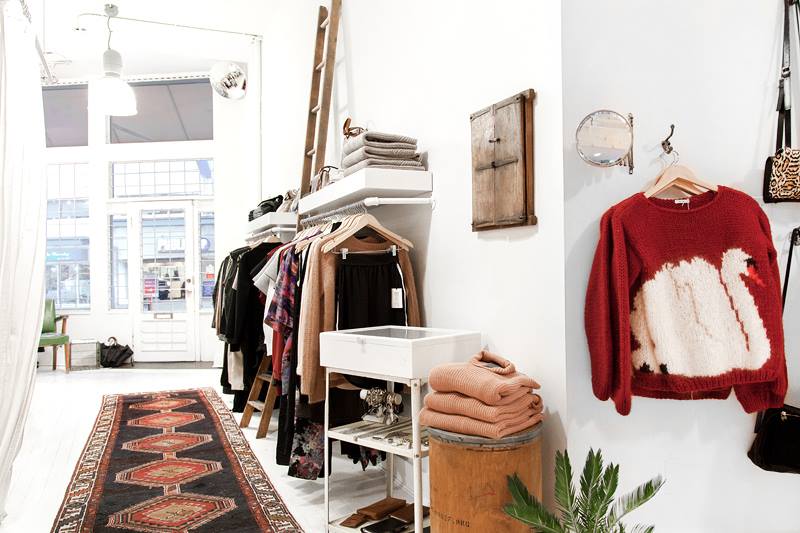 One of a Few (354 Water St, 604-605-0685, oneofafew.com), located in the hip neighbourhood of Gastown, curates beautiful clothing and accessories from both local and international designers. I remember wandering around the neighbourhood in 2014, during a weekend layover on my way to Las Vegas, and catching sight of a retro-styled bikini in the front window. I didn't end up getting that, but did find a gorgeous, locally-made leather choker with a small gemstone I picked up. They must know their stuff, because that came in pretty handy just a few years later when chokers returned with a vengeance!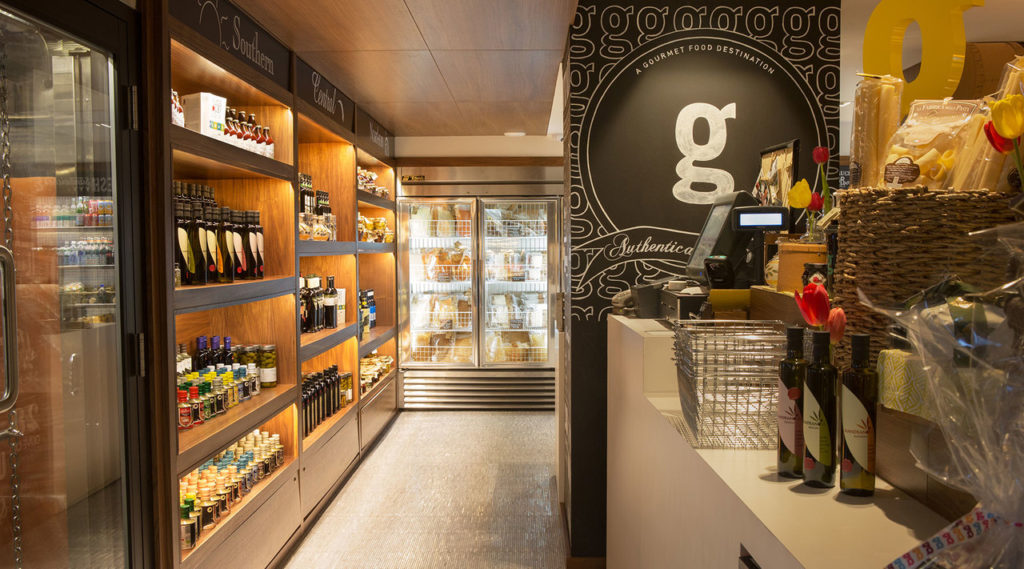 Giovane (mentioned in Best Vancouver Cafés above) has a marketplace section with all sorts of edible goodies (from local charcuterie to Dom Pérignon-infused gummy bears) and a rotating selection of great clothing, jewelry, stationery, and gifts.
Best Miscellaneous Vancouver Activities & Places
YYoga: I grabbed a 30-day intro pass to YYoga's Park Royal shopping centre location (731 Main St #210, West Vancouver, 604-281-1166, yyoga.ca) because I wanted to stay active while I was in town. This is probably one of the best studios I've ever been to…in addition to a sauna, they also have complimentary tea (the Tisano cacao is my favourite), great instructors (Renée Cyr for YHot is the best!), and play ODESZA over the speakers.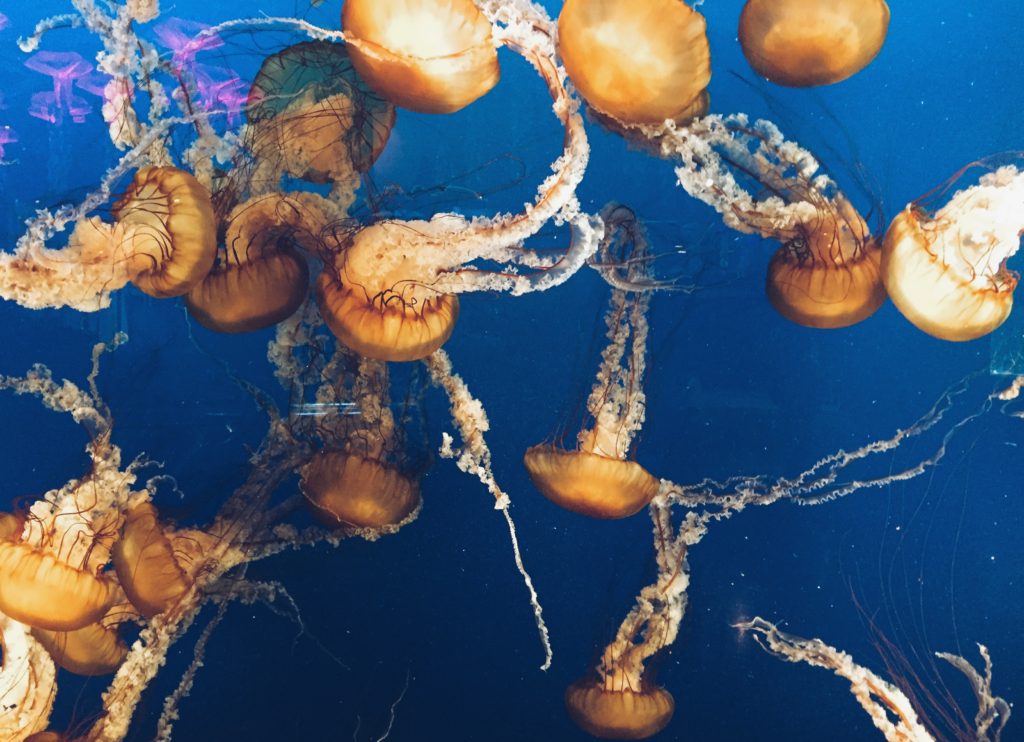 The Vancouver Aquarium: Located in beautiful Stanley Park, The Vancouver Aquarium (845 Avison Way, 604-659-3400, vanaqua.org) is somewhere you can spend an entire afternoon just learning and exploring. They have a variety of educational shows and talks every 15 minutes or so featuring dolphins, sea otters, penguins, sharks, and more! It's also just a beautiful place to wander around (the mesmerizing jellyfish tanks are my favourite) and relax.
---
Phew—that list took quite some time to compile! I just wanted to make sure I covered every spot in depth, and included little tips that I felt would make your experiences more enjoyable if you choose to check them out! If you have any questions or comments, feel free to leave 'em below or contact me on Facebook, Instagram, Twitter, or by email at hello@thekeay.com!
S.